~ Gift Certificates ~
Gift certificates for the Main Location are available at: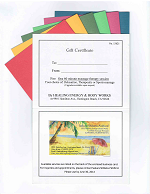 Healing Energy & Body Works
9901 Hamilton Ave., Huntington Beach, CA 92646
Email: HealingEnergy1@gmail.com Voice/text: 714-222-9275
https://squareup.com/market/healingenergy-and-bodyworks
Gift Certificates
- Full-Custom Massage
Comes with our Signature Blend of Techniques (we will select and combine suitable massage modalities and techniques based on your intention and body condition).
Please choose from: Relaxing Therapeutic, Sports, Pregnancy and Serenity massage
$95 for a 60 min session, $140 for a 90 min session
- Upgrades & Add-ons:
For those who wish more than just "a massage", we offer a variety of choices, which may be simply added to your massage. For example, if you want a 60 min Advanced Cupping Therapy upgrade, you will pay additional $15 to $95 for the 60 min Full-Custom Massage.
Please see Menu at Hamilton Ave Location page.
~ Personal Spa Marble Stone Collection ~
Ever wonder why marble floors feel cooler to your feet even during the mid-summer, when wooden floors feel pretty warm? Marble stones stay up to 11 degrees (F) cooler than other things in the same room. So, even when you do not keep marble stones in a fridge, they remain cool. This makes marbles perfect stone to cool our body in a spar of the moment -- all you need is to keep a marble stone on a night stand so that you can reach out for a cool stone when you have a headache.
Have you had a misfortune of using ice to chill your forehead or neck? Ice has a piercing kind of coldness that is often painful, while marble stones gives you a comforting kind of coolness where you feel that your inflammation is drawn out from your body. Of course, you can always make marble stones icy cold by emercing them in a coffee mug with cool (or icy cold) water -- it only takes seconds before your marble stones become so wonderfully & refreshingly chilled.
Our Pesonal Spa Marble Stone Collection comes in a burgundy satin bag (as shown below).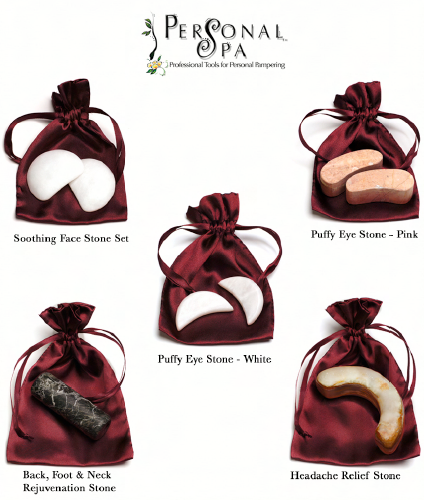 Soothing Face Stone Set ($27.95/pair)
These stones are good for chilling your cheeks as well as tight jaw area. Feels great on forehead, temples and tired eyes. SIZE: 1.875" L x 1.5" W x 0.25" T
Pink Puffy Eye Stone ($24.95/pair)
A little heavier than White Puffy Eye Stone Set, these stones stay cool longer. You can glide them on where you have inflammation or puffiness. But they also feel very good on your temples when you have a headache. Try them on your tight jaw or tight neck. SIZE: 2.5" L x 0.75" W x 0.75" T
White Puffy Eye Stone ($23.95/pair)
These stones feel great when placed above, below or on the eyes. Use them to tone the muscles of the eyes, lessen wrinkles and help with swelling. SIZE: 1.825" L x 0.75" W x 0.375" T
Back, Foot & Neck Rejuvenation Stone ($21.95)
The possibility of this versatile stone is infinite. You can roll it under your tight neck or back, or even your sole of your foot or calf! You can use an end to dig in the tight area of your shoulder or neck where your fingers are not strong enough to push for a long time. It is amazing how a cold stone can make self-massage so much easier. SIZE: 4.0" L x 1.375" Diameter
Headache Relief Stone ($25.95)
An absolute must-have for those who have chronic headaches/migraines. Made of beautiful light green and brown marble, the Headache Relief Stone is perfectly designed to place under the back of the neck. It alleviates headaches (try warming the feet as you chill the neck with this stone). It also eases neck tension, helps to combat overheating. Its contour makes it a great tool for massaging the neck and shoulder area. The shape of this stone makes it quite suitable to chill your tight arms (wrists and elbows) as well as calves. SIZE: 5.5" L x 2.5" W x 1.5" T