Healing Energy & Body Works
~ For Your Active, Pain-fee and Youthful Lifestyle ~

Full-custom massage & bodywork
We select and combine suitable massage modalities and techniques based on your intention and body condition. Our Massage & Bodywork comes with Signature Blend of Techniques.
Basic Service
Your intention
Description of Basic Service
Price
Relaxing Therapeutic
Suitable for anyone who wants to relax but also has some soreness, tightness, discomfort or pain from accident, injuries, illness, stress, daily activities, work, hobbies, driving, posture, repetitive motion and whatever else that might cause such a condition.

$80/60 min.

$120/90 min.

$155/120 min.



Sports, Active Life
Designed to enhance athletic performance (of elite athletes and weekend warriors), it focuses on muscle reconditioning, reduction of stress on the body, injury treatment and speedy recovery from vigorous training. It reduces soreness or tightness in the muscles that were overused during the workout. Expect some pain-free deep tissue work and stretching.

Pregnancy
(Prenatal,
Maternal)

A therapeutic and relaxing massage that focuses on the special needs of the
mom-to-be. Enhances the muscle and joint functions, improves circulation and general body tone, and relieves mental and physical fatigue. Miss lying face down? Our pregnancy massage cushion has a very deep cavity to accommodate soon-to-be-mom tummies for the face down position.

Relaxation
A relaxing, light to medium pressure massage. Combination of long & slow soothing strokes, scalp, neck & hand massage gently induces relaxation, quiets your mind chatters, helps reduce muscular discomfort, improves circulation, and refreshes your body.
Upgrade Options
Your Intention
Upgrade Options
Cost
Persistent pain &
Joint issues
Ultimate Therapeutic: Using Rolfing approaches, myofascial techniques & joint capsular work, we will address chronically tight muscles. Great for frozen shoulders, issues with neck, hip, knee & any other joint. This co-creative, pain-free experience calls for your active participation.

Additional $5 - $15 depending on the work & duration
(Please inquire.)

Scar Tissue Release & Pain Relief
Scar Tissue Release & Pain Relief: MediCupping and MPS therapy help sedate and balance the nervous system, clear stagnation, reduce muscle & joint pain, and break down scar tissue created by physical/mental stress, injuries and surgeries. For a sample of Plantar Fasciitis MediCupping work, click

here

. Click here for an abdominal work demo.
Detox & Relaxation

Lymphatic Drainage: MediCupping gently helps drain the lymph, excess fluid with metabolic waste, pathogens & toxins. It helps the circulatory system deliver nutrients, oxygen and hormones to chronically tight & deprived areas.
Also suitable for people who have edema due to surgery or otherwise and/or who are not strong enough to receive medium to deep pressure.

TMJ & Headaches
Cranial & Neck Focused Work: Geo-thermal, Cranial Sacral, Myofascial, Rolfing-inspired techniques selectively combined can work wonders on the tight muscles on your head, neck, shoulders & jaw.
Head, Hands & Feet
Aromatic relaxation: Let's pay special attention to your favorite areas. Hand and feet treatments with lots of TLC, and extra attention to your scalp.
Healing & Relaxation
Cocoon de-stress: Combination of body wrap and massage. Relaxing scalp & feet massage while you are in a cozy cocoon. After your body is unwrapped, you will receive the massage of your choice. Body scrub and/or contouring essential oil application prior to the wrap available upon request.

Additional $10 - $20 depending on your choices

Facial rejuvenation & Detox
Facial MediCupping: Gentle suction & release techniques lifts the tension from your face, neck & jaw. Helps increase circulation and production of collagen & elastin, and helps improve skin tone & clarity.
I am game for anything that takes care of this pain!!
A client called it, "Nuclear weapon of bodywork": Works great for stubborn & persistent pain. Starting with the superficial fascia, this session will go into the deep into core muscles. Requires active participation of client. Perfect for people used to "deep tissue work" and want more. Expect some discomfort and being stepped on (per Rossiter/Adaptive Bodywork techniques). Click

here

for a brief demo of Adaptive Bodywork.
Prices may change without notice. Please inquire.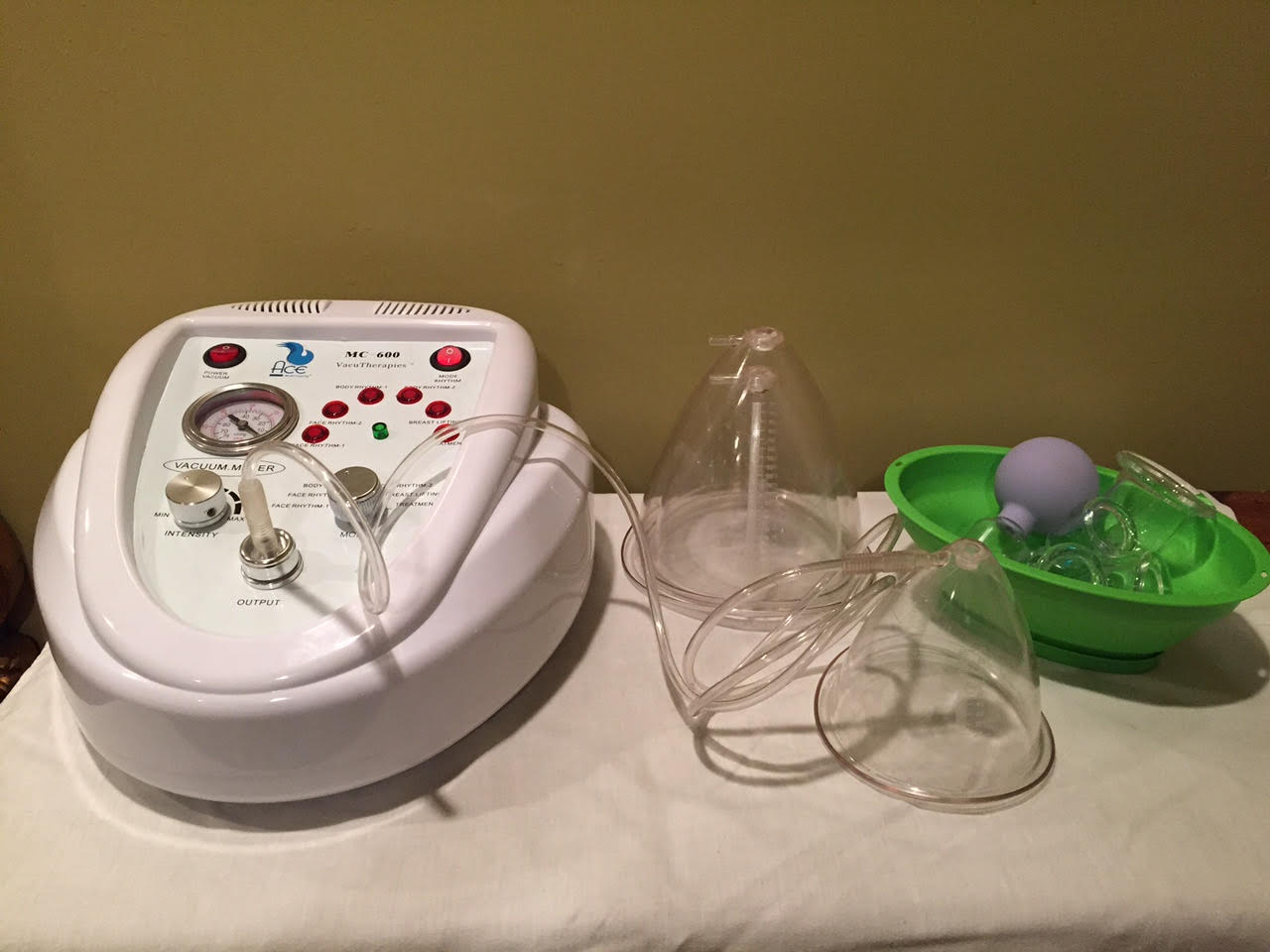 MediCupping Machine: enhances accuracy & effectiveness of VacuTherapies
Energy Work
Something other than Massage or Bodywork

Reconnective Healing & The Reconnection
Believing that illness is a state of imbalance in the body and that when we activate a state of balance the illness naturally will fade away? This energy work modality directly taps into the intelligence that enables the body to self-heal. Please ask for details.

From
$90/session
And more... (We are always improving our menu.)
The prices are subject to change without notice. Please confirm before your first appointment.
Signature Blend of Techniques
Included in our Massage & Bodywork, our signature blend of techniques takes advantage of body's mechanism in delivering relaxation and reducing pain. Effective combination will be customized for each client. By the end of a session, you will notice that the pain that was prominent prior to the session has significantly reduced and that the range of motion has noticeably increased.
Techniques

Description

Geo-thermal
(Hot & Cold stone) therapy

Deeply relaxing. Effectively loosens chronically tight muscles. Helps increase circulation, decrease tension & tissue stiffness, break down scar tissues, improve range of motion, increase metabolism, balance the autonomic nervous system. For demo video of LaStone techniques, click here and here.

Myofascial Release

We believe that release of fascia is the key to pain management and attainment of equilibrium in the body. With application of heat and sustained pressure, you will feel the tension melt away and the target tissue regain flexibility& resilience.

VacuTherapies (Cupping therapy)

Negative pressure loosens fascia, improves circulation, sedates the sympathetic nervous system, reduces pain, and engages the endocrine system. Also encourages collagen & elastin production, improving skin tone and clarity. We can avoid making cupping marks if you so desire. For demo video of cupping techniques, click here (neck work) and here (feet).

Structural integration techniques

Logical approach to address the root causes of chronic pain and muscle tightness. Client's participation is required during the session. An eye-opener to people used to passive deep tissue massage. For a sample of how to treat a frozen shoulder, click here.

Thai/Yoga/Shiatsu work

Sakura's unique combination of Thai massage, Shiatsu (Japanese massage) and Yoga body mechanics. Involves slow, deep & sustained pressure with stretching, which elite athletes and people who love deep pressure find satisfying.

Cranial Sacral therapy

A gentle and relaxing technique to relieve pain and dysfunction by working on the cerebrospinal fluid and the central nervous system. Induces a profound sensation of relaxation that you may find intriguing and do not wish to come out of.